Your UnStruggling Podcast Hosts – Old Lady Dodge and Raven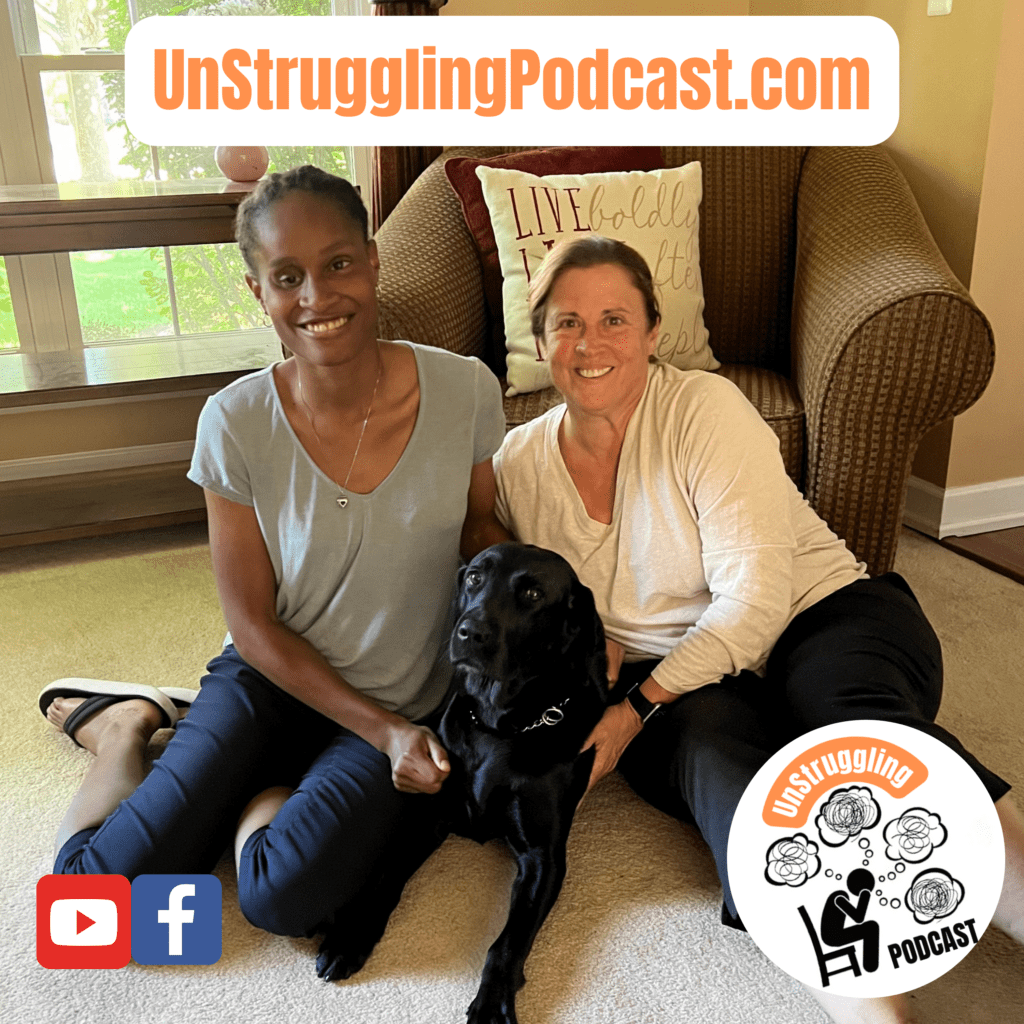 UnStruggling Podcast – Simple Steps for Mental Wellness. Who's Hosting?
Thanks for checking in. We're Raven and Old Lady Dodge and we'll be sharing our personal struggles with anxiety, mania, depression, homelessness, permanent disability and multiple hospitalizations in the hopes of helping others on their mental health journey.
What is UnStruggling Podcasts Why?
It's simple really. Combined we have many years of lived experience with mental health struggles. We're not doctors or mental health professionals, but our lived experience does count for something and we believe everyday people will take away something they can use from our UnStruggling Podcast episodes.
We'll share personal stories along with tips and techniques that worked to get us back on the right life track. Hopefully you'll grab something that works for you, or for someone you know that struggles with their mental wellness. If you have a question, comment, suggestion, or just want to say hello…post it below.
Let's UnStruggle Together on UnStruggling Podcast
You can find Raven, Old Lady Dodge, and UnStruggling Podcast on Apple, Google, Amazon and Spotify. If you're struggling with your mental health…Let's UnStruggle Together! Join us Wednesdays, when Old Lady Dodge takes the host lead, and Sundays it's Raven's turn to choose the topic and lead things off.
We're also on Facebook, Twitter, Instagram and You Tube! We set up an UnStruggling Podcast YouTube Channel because a podcast needs video, right? We thought so. Sure would appreciate a follow, like, heart, comment. And it takes 100 YouTube subscribers to change this link below and add our name. Help us out, after you look around…click the link below and hit the subscribe button on YouTube. Much appreciated! https://www.youtube.com/channel/UCt_2MdAcmUaGq2uN-FuzmMg
Mental Health Balance on UnStruggling Podcast
There's so much to be done here on the UnStruggling Podcast website. Plus, there are episode outlines, recordings and keeping up on social media platforms. But, one thing to always remember, for mental wellness, is to keep life balanced…so stepping away from technology every now and again is super important.
Check back here for podcast episodes and mental health resources pages to be uploaded. Better yet…scroll down and drop in your email to stay up to date with what's happening with Old Lady Dodge, Raven and UnStruggling Podcast.
Promise, you won't be disappointed if you drop your email address in below. Never Spammy and we NEVER share email addresses.
Thanks again for stopping by – Old Lady Dodge and Raven